Now there is an easy way to install O-rings and seals vertically onto components and assemblies. By using the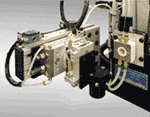 Vertical Placement Module (VPM) with the ASP O-Ring Installation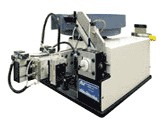 Machines, an O-ring or seal can be quickly and accurately placed onto a part vertically.
The ASP machine feeds and orients the O-ring or seal onto a staging mandrel at the installation head.
The transfer mandrel of the VPM removes the O-ring from the staging mandrel.
The transfer mandrel rotates 90° and accurately places the seal onto the component vertically.
The VPM uses the proven technology of the ASP machine and provides:
Cycle rates up to 45 parts per minute.
Configurable rotational angles of 90° to 270°.
Can be easily integrated into existing production lines or custom automation.
VPM Dimensions (shown with ASP-1)